Announcing the 2022 Philadelphia Trans Wellness Conference
Announcing the 2022 Philadelphia Trans Wellness Conference
December 7, 2021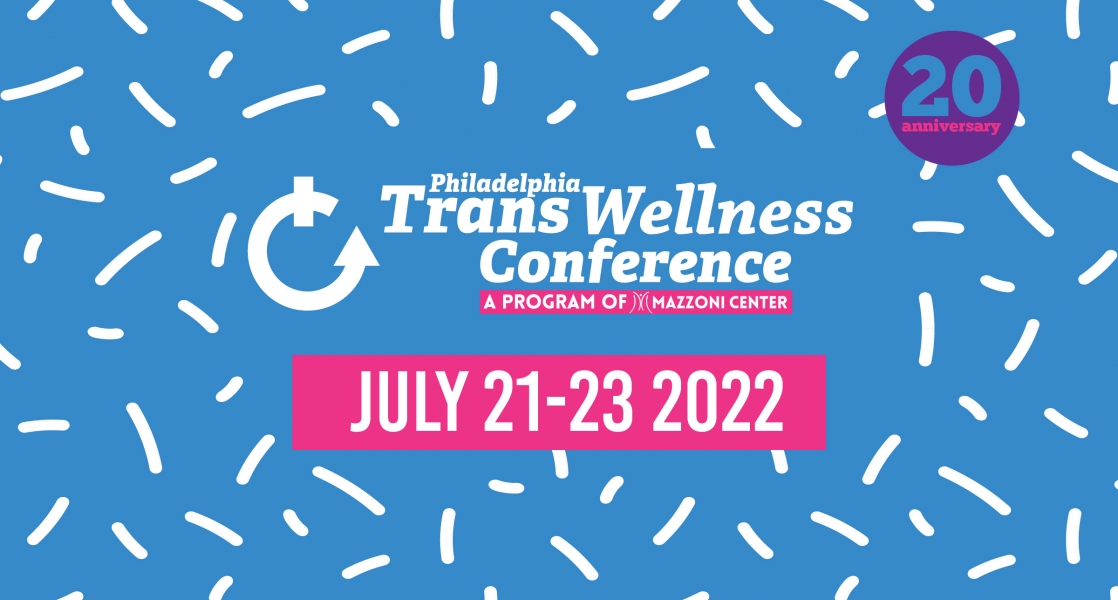 NOTE: This information is now outdated and no longer correct. Read the lastes update here.
We are excited to announce that after two years of dealing with the the pandemic and hosting a virtual conference the 2022 conference will return to the Pennsylvania Convention Center. For more than a decade the conference has occupied physical space at the Pennsylvania Convention Center.
The 2022 conference dates are July 21-23, 2022.
As with current health precautions and in accordance with the City of Philadelphia guidelines, all presenters, attendees, sponsors and exhibitors will be required to wear a mask at all times during the conference, regardless of vaccination status. Mazzoni Center will remain responsive to local, state, and federal guidance, should the need to elevate or relax these requirements arise.
Visit www.transPHL.com for the latest up to date infomation
Call for Proposals
We are now accepting workshop proposals for the 2022 edition of its annual Philadelphia Trans Wellness Conference (PTWC).
The conference workshop review committee is seeking workshop proposals for the conference's General Track and its Continuing Education Track (formerly Professional Track).
Dani Murano, PTWC Logistics Coordinator said, "PTWC embraces a wide and intersectional view of what defines trans 'wellness,' as a system of overlapping and ever-expansive topics, pertaining to all aspects of trans life. Our priority for 2022's workshops is to ensure that content is led and/or supported by presenters who are members of the trans and gender-variant community and its many intersections. We also want to ensure that we're lifting up proposals from intersections of community that have historically been under-represented."
Trans-led/supported workshop submissions on the following topics for both conference tracks are strongly encouraged:
HIV/AIDS
Incarceration, Re-Entry, Decarceration, Prisoner Support
Abolition, Transformative Justice, Restorative Justice
Community Building
Early Transition Support
QTBIPOC lead workshops
Disability & neurodiversity
Trans History & Storytelling
Housing instability/Homelessness/Houselessness
Trans Youth
Show & Tells (femme and masc surgeries)
Sex Work & Sex Worker's rights
The deadline for all submissions is 11:59 p.m. EST March 6, 2022. This video details how to submit a workshop proposal. Any questions about the proposal submittal process should be submitted to the Logistics Coordinator at [email protected].
About the Philadelphia Trans Wellness Conference
Mazzoni Center's Philadelphia Trans Wellness Conference (PTWC) is the largest transgender health conference in the world. PTWC was founded by Charlene Arcila who was aided by countless community members, to bring the conference to life, year after year. The mission of the PTWC is to educate and empower trans individuals on issues of health and wellness, recognizing the need for expertise surrounding trans health & wellness to rise from within the community.