With LGBTQ Rights Under Attack, Now's the Time to Act: Justice in Action
Justice. It's a concept that's been on many people's minds lately, especially as we head into a political era in which the rights of many Americans are more uncertain than ever before. With many social institutions under impending threat of federal defunding or outright dismantling, it has now become imperative to fortify and protect our communities — with priority to those who are marginalized.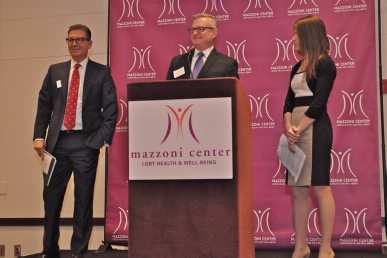 As the only resource specifically tailored to offer free legal services to LGBTQ Pennsylvanians, especially those of lower incomes, Mazzoni Center's legal services program has every intention of remaining a source of support and guidance throughout whatever the future may hold. Through our services, we help LGBTQ Pennsylvanians:
Fight discrimination and harassment
Advocate for their families
Protect their gender identities
Work to positively influence public policy
On Friday, February 10, legal professionals, local advocates, allies and other community members will come together at the Justice in Action awards luncheon to honor the progress and achievements made by two of our community's pioneers and leaders.
This year, we're thrilled to recognize Mara Keisling, Founder and Executive Director of the National Center for Transgender Equality, a leader in the LGBTQ community committed to the fight for justice.
Although an extensive amount of work lies ahead of us, taking the time to recognize the impactful strides made by trailblazers like Keisling remind us of our purpose and inspires us to keep moving forward.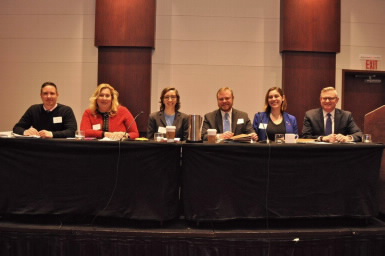 The faculty of the 2016 Justice in Action CLE
In the morning, before the awards luncheon, legal professionals will have the opportunity to attend an accredited continuing legal education (CLE) program titled Protected or Not? When, Where, and How do Sex Discrimination Laws Protect LGBTQ People?
Taught by a faculty including Katie Eyer, an anti-discrimination law teacher, scholar and litigator, Omar Gonzales Pagan, Esq., Staff Attorney with Lambda Legal and Brian McGinnis, Esq., Associate Attorney with Fox Rothschild LLP, and moderated by Andrew A. Chirls, Esq., attorney with Fineman Krekstein and Harris, P.C., the course will address the ways that laws prohibiting sex discrimination do (and do not) protect people against discrimination based on LGBTQ identity.
Register now and join us on Friday, February 10 at 11:30 a.m. at the Loews Philadelphia Hotel. If you are interested in becoming a sponsor for Justice in Action 2017, please contact Perry Monastero at: [email protected]
With your support, we can continue to assist LGBTQ Pennsylvanians as they navigate their pursuit of justice in our legal system.
Can't attend on February 10 but still want to make a contribution? Click here.
Learn more
Topics