Mazzoni Center Welcomes New Board Members
Mazzoni Center Welcomes New Board Members
June 15, 2021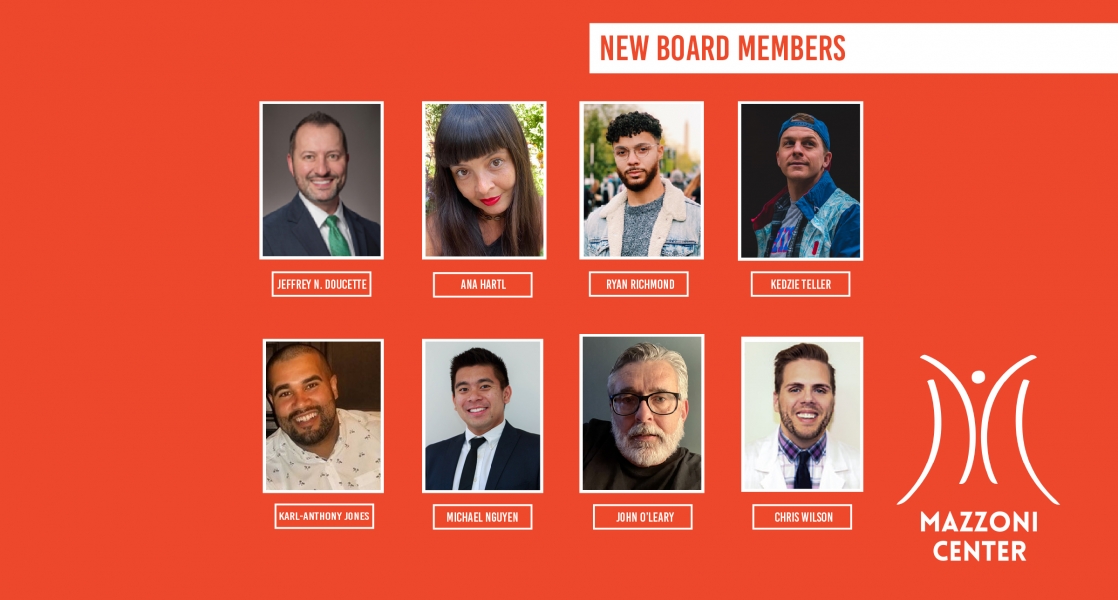 Mazzoni Center's Board of Directors announced this week the onboarding of eight new board members.
"We are pleased to have appointed one of the largest cohorts in the past three years," said Board President Nu'Rodney Prad, "During this Board cohort recruitment cycle, we had over twenty-two individuals express interest in being a part of this organization's oversight leadership."
"This latest cohort is a continuation of our goal of expanding the Board, while honoring our commitment to diversity and inclusion across the board," Prad added.
"We are pleased and excited to welcome these new board members, who will help propel Mazzoni Center into the future," said Larry Benjamin, Director of Communications/Interim Director Development.
The new board members are:
Jeffrey N. Doucette, DNP, RN, NEA-BC, FACHE, FAAN, Chief Nursing Officer at Press Ganey—Jeff is a widely recognized and accomplished nurse leader with nearly 30 years of experience spent largely in leadership and executive nursing roles. Throughout his career, he has focused on enabling the delivery of exceptional patient and family experiences through innovation, education, and nursing excellence.
Ana Hartl, Chief Creative Director for Free People—Ana holds a leadership role on the URBN D&I team which fulfills her lifelong passion for supporting diverse communities.
Ryan Richmond, Integrated Media Leader for IKEA U.S.—Ryan also currently serves on the board at Philadelphia's Magic Gardens and continues to seek opportunities to lend his skills in non-profit spaces that focus on the arts, social justice, and climate change.
Kedzie Teller, Founder & Lead Consultant at KedzieT Consulting—is a passionate, outspoken, and high-energy communications professional with a love of storytelling. Kedzie also serves as a representative for Athlete Ally, and as an ambassador for the international Gay Games, and is always looking for new and impactful ways to help strengthen and support the LGBTQ+ community.
Karl-Anthony Jones, General Manager at Shake Shack—In addition to his work in the hospitality industry, he also runs a hospitality consultation group. As a member of the LGBTQIA+ community, he strives to promote equal rights for everyone. A proud husband and a stepfather, Karl envisions setting a great example through his visionary and strategic leadership.
Michael Nguyen is an incoming medical student at Sidney Kimmel Medical College at Thomas Jefferson—Michael is also a steering committee member of Philadelphia Asian & Queer (PAQ) and supported research studies at the Gender & Sexuality Development (GSD) Clinic at the Children's Hospital of Philadelphia. As a gay person of color raised by Vietnamese immigrants, he strives to be the role model that he never had growing up and he hopes to teach, mentor, and inspire students from marginalized communities and those with a passion for serving them.
John O'Leary has worked in the healthcare space, on the provider, corporate and association sides, for most of his career, with a focus on strategic communications, media and public relations, and digital marketing. John brings extensive experience working with Boards and a passion for working with mission-based organizations.
Chris Wilson, Chief Nursing Officer for Belmont Behavioral Health System—As a board-certified Nurse Executive, Chris is focused on high-quality patient care and safety and is committed to creating an environment that allows for all to receive care that is compassionate, safe and effective.