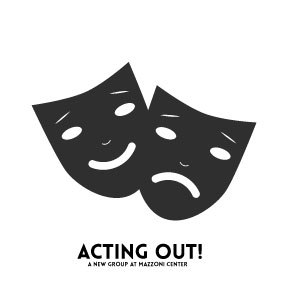 Click here to Sign Up for Acting Out
For some, contacting and expressing their emotions with others comes spontaneously, while for others it might take a little digging to bring those feelings to the surface.
Acting Out is an 8 week group for LGBTQ+ individuals that incorporates acting techniques and theatrical movement to help members connect with themselves and others, while learning creative and positive ways to identify and express themselves.
Each week, group members will have the opportunity, both together and individually, to process life experiences through acting exercises and body movements.
Group members will learn how to:
Constructively channel emotions from past experiences
Connect with others in the present moment
Express oneself in an effective and impactful manner
View important life experiences from multiple perspectives
The group will meet weekly on Thursday nights from 5:30 – 6:45, from September 21st through November 9th. The group will be limited to ten participants, and will be facilitated by Tommy Fisher-Klein, LPCMH Intern and Webb Haymaker, LCSW. Tommy is counseling intern with 16 years of experience in acting, directing, and choreographing in community theater settings. Webb is a therapist who specializes in mentalization-based treatment (MBT), a modality that helps people maintain their capacity for perspective-taking while experiencing emotional stress.
To pre-register, inquire about cost,* or learn more about the group: contact 215-563-0652 ext. 579 (Webb Haymaker, LCSW)

(*some insurance plans accepted and sliding-fee scale available as needed)