Mondays at Mazzoni Center
Mondays at Mazzoni Center
We recognize that health and wellness is not just about how you're feeling. In fact, there are many aspects to consider for "whole-person" health including those that address our physical, psychological, legal, environmental, and social wellbeing.
Learn more and connect with others at "Mondays at Mazzoni Center" for workshops on topics relevant to our health and wellbeing. Our aim is to empower community members with information in a relaxed, interactive setting! This is a FREE event.
Upcoming Event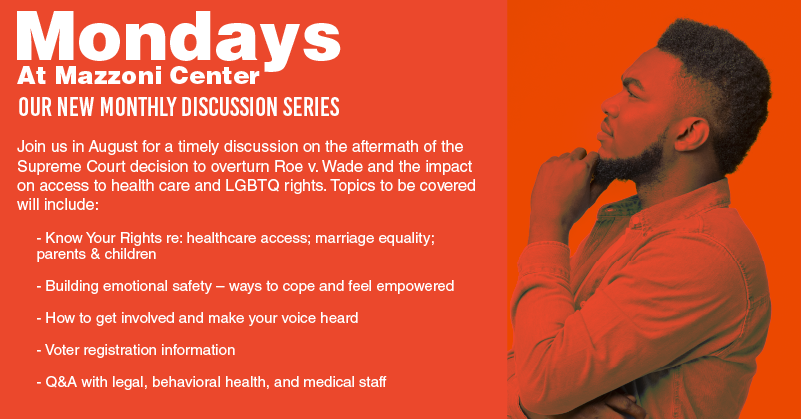 Join us in August for a timely discussion on the aftermath of the Supreme Court decision to overturn Roe v. Wade and the impact on access to health care and LGBTQ rights. Topics to be covered will include:
Know Your Rights re: healthcare access; marriage equality; parents & children
Building emotional safety – ways to cope and feel empowered
How to get involved and make your voice heard
Voter registration info
Q&A with legal, behavioral health and medical staff
Register for one of these upcoming workshops, and please share your ideas for future workshop content.
Monday, August 8 from 5:30-6:30 pm at 1348 Bainbridge Street
Monday, August 15 from 12:30-1:30 pm (virtual) – a link will be sent to you following registration.
Event Information
Monday August 8 and Monday August 15