Trans Health Sponsors 2017
Limited sponsorship as of 8/1/2017
The 16th Philadelphia Trans Health Conference will take place Thurday, September 7 through Saturday, September 9 at the Pennsylvania Convention Center. Since its inception, the mission of the Conference has been to educate and empower trans individuals, allies, family members, and providers on issues of health and well-being while facilitating opportunities for networking, community-building, and systemic change.
The generous support of our sponsors enables us to keep the Trans Health Conference free to our estimated 4,500 attendees. And it's not too late to become a sponsor for the 2017 conference!
Opportunities to sponsor range from $1,000 to $50,000; each level of support provides unique opportunities to share your company's brand in a one-of-a-kind setting.
Our downloadable
sponsorship form
outlines the sponsorship opportunities avaliable for the conference. You can also sign up and pay for your sponsorship
using the buttons below
.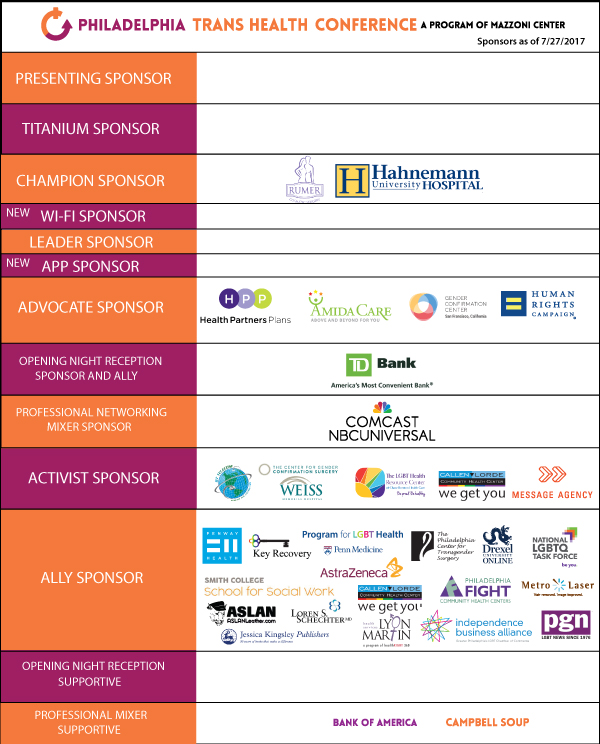 Ally Sponsor
Ally Sponsor ($1,000) includes: Signage at the Conference Registration area and a vending table in a prime location; Company logo displayed as "Ally Sponsor" on the website and select promotional messages
Opening Night Reception Or Professional Mixer Supportive Sponsor
Opening Night Reception Or Professional Mixer Supportive Sponsor ($500) includes: Company logo on signage at Opening Reception and/or Professional Networking Mixer event(s) and in select e-mail message only