INDEPENDENCE BLUE CROSS FOUNDATION FIRST IN THE NATION TO SUPPORT HEALTH EQUITY ACCREDITATION FOR HEALTH CENTERS
INDEPENDENCE BLUE CROSS FOUNDATION FIRST IN THE NATION TO SUPPORT HEALTH EQUITY ACCREDITATION FOR HEALTH CENTERS
April 3, 2023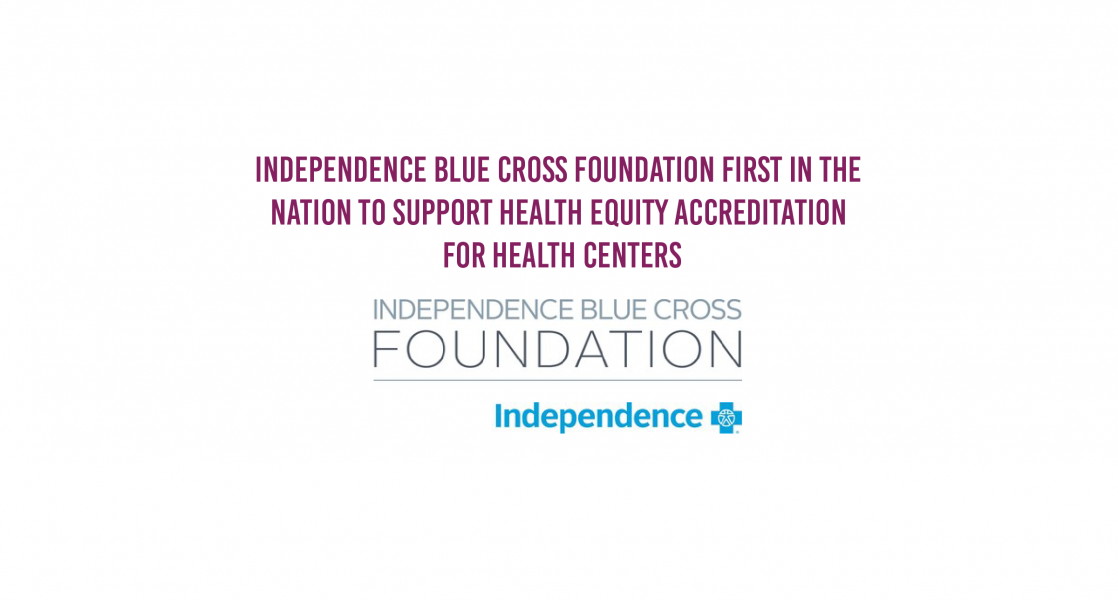 Today the Independence Blue Cross Foundation (IBC Foundation) announced it is supporting the first private, nonprofit health centers in the nation to pursue the National Committee for Quality Assurance's (NCQA) Health Equity Accreditation. This accreditation provides a framework to advance equity in organizational culture, operational process, and the delivery of care.
"Health equity is a fundamental component of our society, and this pioneering program demonstrates the commitment of Independence Blue Cross and the IBC Foundation to improving health outcomes in our region," said Stephen P. Fera, Executive Vice President of Public Affairs and Government Markets at Independence Blue Cross. "For over 85 years we have been passionately dedicated to the health of our family, friends, and neighbors. Programs like these are going to close the gaps, overcome health disparities and create a more equitable, inclusive society for everyone."
The IBC Foundation's investment and out-front leadership of this initiative will benefit socioeconomically and gender diverse populations and the health centers that care for these historically underserved communities, starting with Philadelphia and with the potential to replicate with nearly 1,500 health centers nationally.
"It is exciting that the Independence Blue Cross Foundation is engaging different models of care delivery to pursue NCQA Health Equity Accreditation," said NCQA President Margaret E. O'Kane. "We are looking forward to working with the IBC Foundation and health centers they support to evolve this accreditation for other models of care delivery."
The initial cohort of health centers includes Mazzoni Center, Spectrum Health Services, and Kids Smiles. These centers provide health care and preventive services to more than 60,000 patients in southeastern Pennsylvania including the LGBTQ+ community, children, and individuals and families earning low incomes.
"We're very grateful to the Independence Blue Cross Foundation for leading us through this process," said Cheryl Janssen, Chief Executive Officer of Kids Smiles. "Gaining this accreditation is not merely to meet standards, but to acknowledge that health centers are already doing the work and are dedicated to providing the highest quality of care possible. We're eager to go through this process to be recognized as experts in our community's health, like many of our fellow health centers."
The Independence Blue Cross Foundation is leading a future for equitable health in our communities and nation. The IBC Foundation's grant programs and the Independence Blue Cross Foundation Institute for Health Equity are advancing three areas of impact: Access to Care, the Healthcare Workforce, and Health Equity. Since inception the IBC Foundation's most important stakeholder – the community – has been at the center of the work. By the end of 2023, the IBC Foundation will have awarded grants totaling more than $80 million to support nonprofits and research improving the health and well-being of communities in southeastern Pennsylvania.
Learn more by visiting our website: ibxfoundation.org. Connect with the Independence Blue Cross Foundation on LinkedIn.
SOURCE Independence Blue Cross Foundation