Monkeypox: Testing and Vaccination
Monkeypox: Testing and Vaccination
June 3, 2022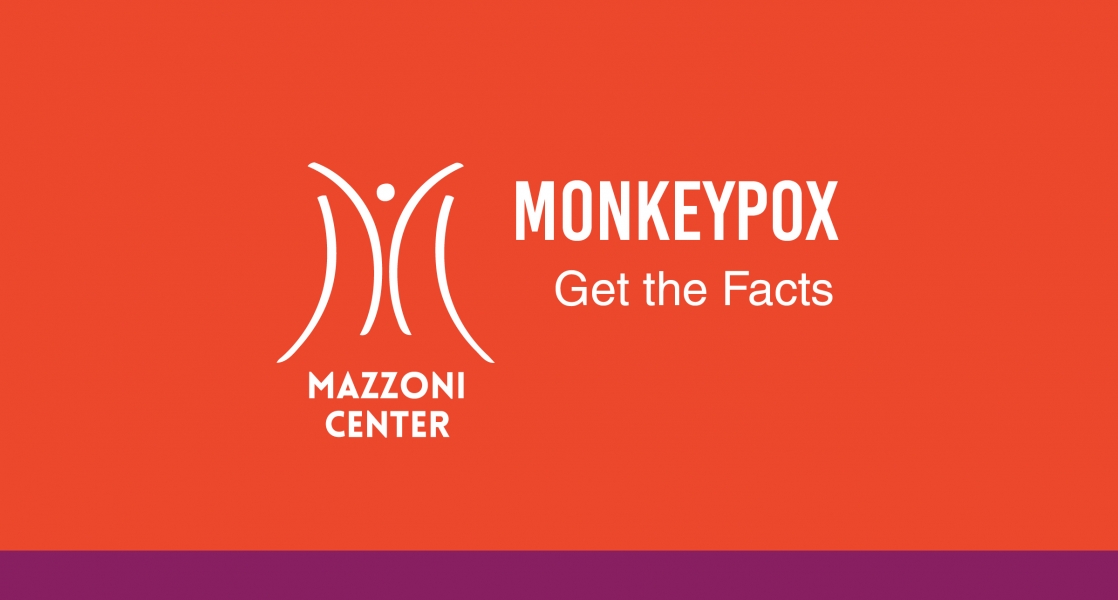 Update: September 12, 2022
Vaccine Update
Monkeypox Vaccine Eligibility has been updated on 9-5-2022.
For those patients elegible for second doses: Call 215-563-0658.
The city is providing Mazzoni Center with the monkeypox vaccine, JYNNEOS, weekly for current patients who are eligible for the vaccine. Mazzoni Center is currently seeing patients by appointment daily. If you believe that you meet the eligibility, please reach out to us via phone or patient portal. Thank you.
Here are some other locations where the vaccine will be available for patients:
- Philadelphia FIGHT
- Presbyterian Hospital
- Drexel Partnership
- PennMedicine
Accessing a Monkeypox Vaccine
For Mazzoni Center patients who are at risk of exposure to monkeypox:
If you meet the eligibility criteria and do NOT have any monkeypox symptoms please reach out to your provider or call 215-563-0658. You will be invited to the next vaccine clinic.

For community members who are not patients:
Call the Philadelphia Department of Public Health at 215-685-5488 to talk to a health department representative about a recent exposure or getting a vaccine.

Check this website for updates if you do not meet the current eligibility. The eligibility for who can be vaccinated will change as more vaccine becomes available.
Monkeypox Testing
If you have concerns about recent exposure to monkeypox, please contact your provider via phone or patient portal. Due to the infectious nature of this virus, please call the office first and do not walk into our facility.
For non-patients, testing and treatment services are available by appointment at District Health Centers.
Monkeypox and Philadelphia
On July 23, the World Health Organization declared monkeypox a "public health emergency of international concern." Our goal is to provide information about monkeypox without contributing to stigma. Monkeypox can affect anyone, regardless of gender identity or sexual orientation. Currently, Philadelphia's monkeypox cases make up more than half of the 61 cases reported in Pennsylvania.
We here at Mazzoni Center want you to know the facts and risks:
Monkeypox: Get the Facts
Monkeypox is a rare disease caused by the monkeypox virus it can make you sick including a rash or sores (pox), often with an earlier flu-like illness
Monkeypox can spread to anyone through close, personal, often skin-to-skin contact including:
Direct contact with monkeypox rash, sores, or scabs
Contact with objects, fabrics (clothing, bedding, or towels), and surfaces that have been used by someone with monkeypox
Through respiratory droplets or oral fluids from a person with monkeypox
This contact can happen during intimate sexual contact including:
Oral, anal, and vaginal sex or touching the genitals or anus of a person with monkeypox
Hugging, massaging, or kissing and talking closely
Touching fabrics and objects during sex that a person used with monkeypox, such as bedding, towels, and sex toys
We know the virus can be spread in fluid or pus from monkeypox sores, and are trying to better understand if the virus could be present in semen, vaginal fluids, or other body fluids.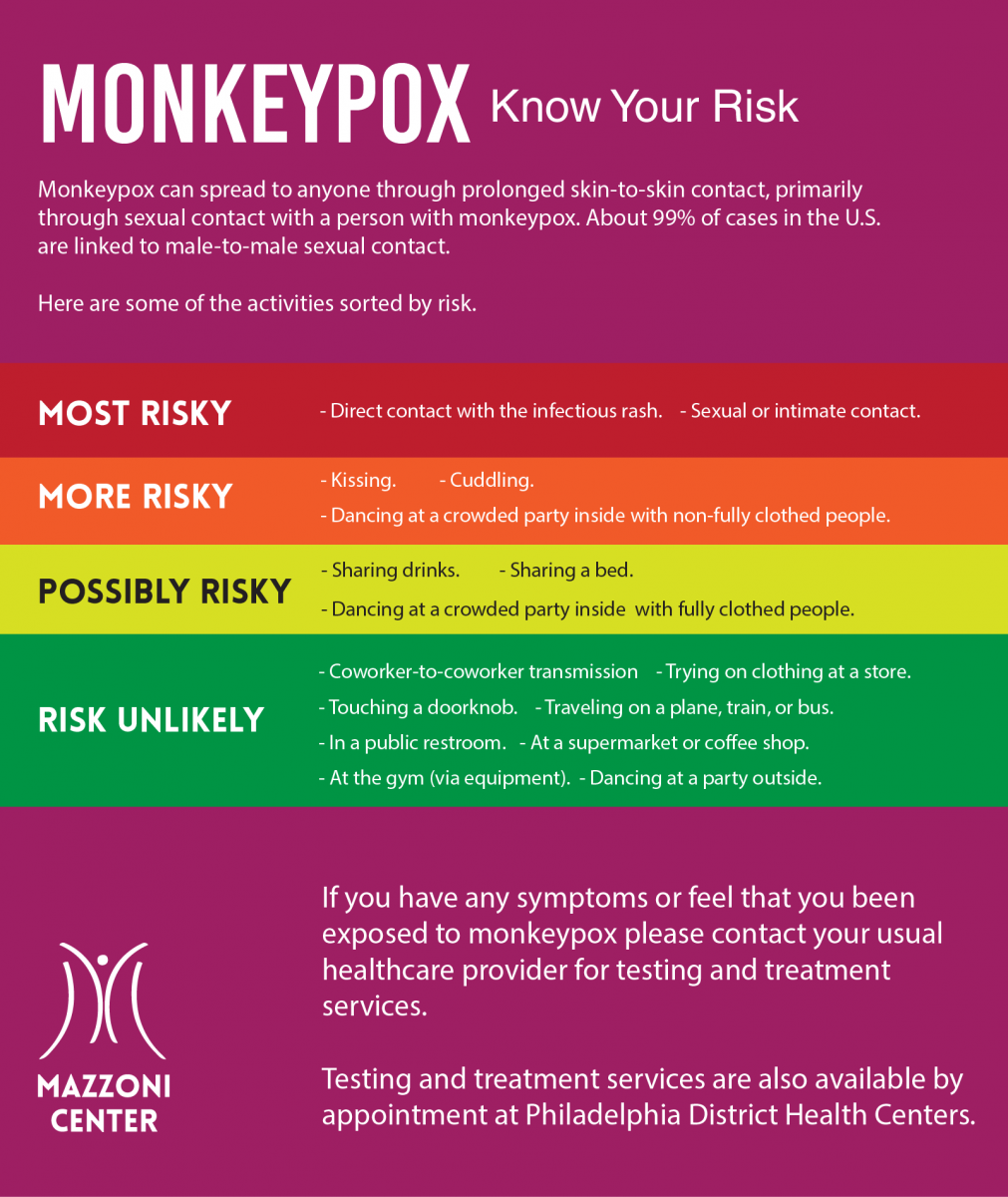 What Are the Symptoms?
Early flu-like symptoms of monkeypox can include:
Fever
Headache
Muscle aches and backache
Swollen lymph nodes
Chills
Exhaustion
A rash or sores, sometimes located on or near the genitals or anus, but sometimes in other areas like the hands, feet, chest, or face – sores will go through several stages before healing
Sores may be inside the body, including the mouth, vagina, or anus
Some people experience a rash or sores first, followed by other symptoms, and some only experience a rash or sores
Monkeypox can be spread from the time symptoms start until all sores have healed and a fresh layer of skin has formed – this can take several weeks
If You Have a New or Unexplained Rash, Sores, or Other Symptoms...
See your healthcare provider – if you don't have a provider or health insurance, visit a public health clinic near you.
When you see a healthcare provider for possible monkeypox, remind them that this virus is circulating in the community.
Avoid sex or being intimate with anyone until you have been checked out
If You or Your Partner Have Monkeypox...
Follow the treatment and prevention recommendations of your healthcare provider.
Avoid sex or being intimate with anyone until all your sores have healed and you have a fresh layer of skin formed.
Other resources:
News Articles:
8/22 press conference on monkeypox:
An additional, unexpected batch of monkeypox vaccines coming to Philadelphia | CBS Philly
Philadelphia to receive additional monkeypox vaccine doses | 6 ABC
Philly Getting More Monkeypox Vax, Targets Equitable Distribution | NBC Philadelphia
Watch Mazzoni Center Community Townhall on Monkeypox
An additional, unexpected batch of monkeypox vaccines coming to Philadelphia | CBS Philly
Philadelphia to receive additional monkeypox vaccine doses | 6 ABC
Philly Getting More Monkeypox Vax, Targets Equitable Distribution | NBC Philadelphia
Monkeypox Q&A: What Doctor Says You Need to Know | NBC Philadelphia
Philly's monkeypox vax supply must be stretched. The health commissioner is weighing how to do it. | The Philadelphia Inquirer
Philly health officials and leaders answer monkeypox questions at town hall | Pennsylvania Capital-Star
Monkeypox vaccine limits cause frustration and fear in Philly| Philadelphia Inquirer
Philadelphia LGBTQ Community Advocates Say Messaging Around Monkeypox Needs To Be Changed | CBSPhilly
'I'm furious': LGBTQ leaders and residents angered over Philly's monkeypox vaccine shortage | WHYY
Monkeypox vaccine in short supply in Philadelphia; advocates want more access | ABC Philadelphia
Some Philadelphians say they can't get monkeypox vaccine appointments despite meeting eligibility criteria | KYW Newsradio
LGBTQ leaders and health workers express frustration over the monkeypox response. 'It's a human virus.'| Philadelphia Inquirer
Community leaders voice concerns about monkeypox at Mazzoni Center press conference |Philadelphia Gay News
Monkeypox, Now a Global Emergency, Has Been Found in Pa., NJ, and Del. | NBC Philadelphia
WHO declares monkeypox outbreak a global health emergency | KYW Newsradio
Monkeypox vaccines are now available in Philadelphia; here's how to get an appointment | PhillyVoice
Philadelphia's monkeypox vaccine supply is getting a big boost, allowing more people to get the shot | Philadelphia Inquirer
Pa. got more than 3,000 doses of monkeypox vaccine this week, but access is still limited | Philadelphia Inquirer
Monkeypox vaccines coming to Philly, but health officials say it's not enough | Philadelphia Inquirer