Creating a City of Humanly Love: Mazzoni Center to Host Televised Mayoral Debate
Creating a City of Humanly Love: Mazzoni Center to Host Televised Mayoral Debate
April 10, 2023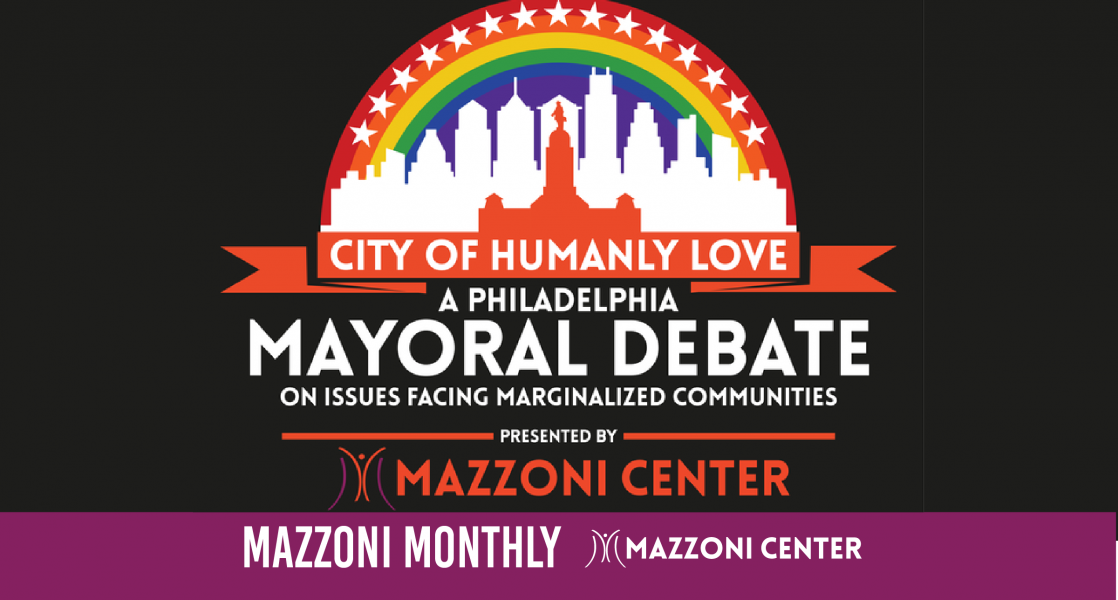 How do the candidates vying to be the next mayor of the City of Philadelphia plan to support our LGBTQ+ community? What understanding do the candidates have on issues facing marginalized populations in the city?
These questions will be at the forefront on Tuesday, May 2, when Mazzoni Center hosts a televised candidates forum entitled: City of Humanly Love: A Philadelphia Mayoral Debate on Issues Facing Marginalized Communities.
The debate will be held at the beautiful Arch Street Presbyterian Church (1724 Arch Street), and tickets to attend are available to the public at www.mazzonicenter.org/mayoraldebate.
For those unable to attend in person, the debate will be broadcast live on both the cable television and internet platforms of Pennsylvania Cable Network.
Candidates who have already confirmed their participation in the Mazzoni Center debate include Amen Brown, Jeff Brown, Alan Domb, Helen Gym, David Oh, Cherelle Parker, and Rebecca Rhynhart.
Mazzoni Center is delighted to have a long list of allied organizations partnering to support and promote this debate, including ACT UP Philadelphia, Attic Youth Center, Bebashi, COLOURS, Community Control: Black and Latinx Philadelphia, Galaei, Independence Business Alliance: Greater Philadelphia's LGBTQ+ Chamber of Commerce, Philadelphia Black Pride, Philadelphia FIGHT Community Health Center, Philly Trans March, and William Way LGBT Community Center.