Getting in Right Relationship & Community Accountability | Sexual Assault Awareness and Advocacy Month
Getting in Right Relationship & Community Accountability | Sexual Assault Awareness and Advocacy Month
April 25, 2022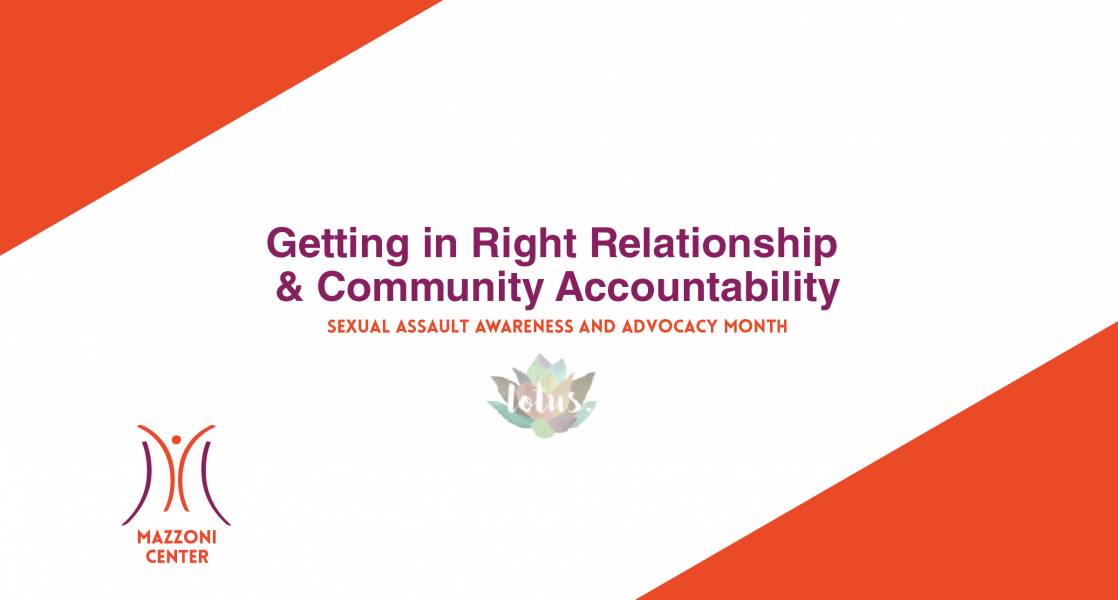 Hello and welcome to the fourth and final installment of our Sexual Assault Awareness and Advocacy Month blog post series! We have explored sexual violence in the LGBTQ+ community, consent and how to support survivors. Today we are discussing community accountability.
To the LGBTQ+ folks who have experienced sexual violence: we believe you. If you need support, please call WOAR (Philadelphia Center Against Sexual Violence) at their 24-hour crisis hotline number: 215-985-3333.
Sexual violence is unfortunately very prevalent in general and especially experienced by the LGBTQ+ community. In short: sexual violence IS happening in your community. You most likely know someone who has experienced sexual violence. Perhaps you are familiar with how prevalent sexual violence really is. Now ask yourself: how often do you see a community-wide response to a single person's experience of violence? And what might that look like if you have not seen anything like that before? This blog post will examine community-level interventions and responses to sexual assault. We will envision what they can look like and be with the hope of inspiring you to take action within your own community about the issue of sexual violence.
Before jumping into community accountability: the most important thing you can do when responding to sexual violence is to take the lead of whoever has experienced it. If you read about something inspiring here and it is contrary to what a survivor in your life wants or thinks will be helpful to their healing, then you should listen to them. People who have experienced sexual violence know what will and will not work for them and the situation. Even if you have experienced sexual violence, each person's situation is unique. It is always necessary to defer to the person who has specifically experienced the instance of harm you are responding to. Healing from sexual and interpersonal violence is all about restoring agency, choice, and autonomy to the person who has experienced harm.
Now, what could a community-level response to sexual violence look like? There are a lot of possibilities! It could look like significant collective actions like the March to End Rape Culture in Philly or the Me Too Movement. Those are both fantastic ways to address larger systems through advocacy movements addressing sexual violence!
But how do we transform an individual's experience of sexual violence into a collective reckoning? In a just world, the knowledge of just one sexual assault should be too much for a community to bear. The news of sexual violence happening should make us want to change the very fabric of how we relate to each other so that it cannot happen again. People should see the interconnected nature of human beings and understand that when one of us experiences sexual violence, it makes our world that much more violent. We should work collaboratively to shape the world into a place where people can experience safety, joy, and have our needs met.
What if when someone survived violence, their whole community wrapped around them like a security blanket? What if their community made them food, provided them comfort, and processed with them what happened emotionally? What if their community asked what steps should occur to address the harm that occurred? What if their community addressed the person who caused harm?
If the idea of changing the very fabric of how we relate to each other on a societal level feels overwhelming, that is ok! No sole individual should be responsible for such a monumental task. Marriame Kaba says, "if it is worth doing, it is worth doing with others." When thinking about community action, think on a smaller scale. A scale that reflects what you have access to influence and think collectively. We do not have to change the entire world! If you work to make your social spheres a little bit safer, and other people do it too, that might add up to necessary social change one day at a time. Adrienne Maree Brown reminds us that it is not the number of our connections but their depth that gives them power and enables them to be impactful.
Ask yourself: What does it look like to get in the right relationship? When I use the term "right relationship" I mean it broadly and expansively. When I hear those words, I feel an embodied sense of what it means to mutually see one another in our full humanity. I also think about what it means to be in the right relationship with the land and connect to the earth in a loving, non-exploitative way. Ask yourself what it would look like to be in the right relationship with your: classmates, neighbors, coworkers, colleagues, friends, loved ones, family, etc. How can we grow, evolve, change, and learn from moments when we are not in the right relationship?
As a good start, practice working through hurtful and harmful behavior. As social groups, we can create norms about treating each other with love, dignity, and respect. It is uncomfortable to lean into conflict in the hope that it will generate something better, but it is so worth the hard conversations. Start with smaller instances that are easier to address and work your way up to having honest talk about harder to talk about harm. Learning to change the fabric of how we relate to each other is like building up muscle. It is always challenging work, no matter how much experience you have working through conflict. Still, the difficulty gets more familiar and doable with each time. And if you do not feel equipped to address someone's harmful behavior on your own, get help!! It is easier and safer with a team. Additionally, any level of working to call each other in and be in the right relationship is good work. Helping someone recognize that harm in smaller instances still has an impact can prevent more serious harm down the line.
I hope in reading this you feel inspired to be vulnerable and transparent with people you are in community with. I hope you connect to others in your community for support in addressing sexual violence. Relationships are powerful, and it is time to leverage them to create a better world.
LGBTQ+ Survivors: You are not alone. If you have experienced sexual violence and need assistance, please call WOAR's 24-hour crisis hotline at 215-985-3333.
Thank you for reading our blog post! You can review this content and give feedback about what LGBTQ+ survivors of sexual violence in Philadelphia need with this survey: https://www.surveymonkey.com/r/SAAAM22
This blog post is part four of a four-part series for Sexual Assault Awareness and Advocacy Month and was written by Quinn Pellerito. These blog posts are brought to you through the lotus. program, a grant-funded sexual violence educational program developed in collaboration between Mazzoni Center and WOAR: Philadelphia Center Against Sexual Violence. The lotus. program cultivates the safety and liberation of LGBTQ victims and survivors of sexual violence by inspiring action, centering nonlinear healing, and promoting radical vulnerability through narrative-based educational opportunities for service providers and community members. The lotus. program offers all services free of charge.
This project was supported by 2017-UD-AX-0011 awarded by the Office on Violence Against Women, U.S. Department of Justice. The opinions, findings, conclusions, and recommendations expressed in this document are those of the author and do not necessarily reflect the views of the U.S. Department of Justice, Office on Violence Against Women.