Happy National Coming Out Day
Happy National Coming Out Day
October 11, 2022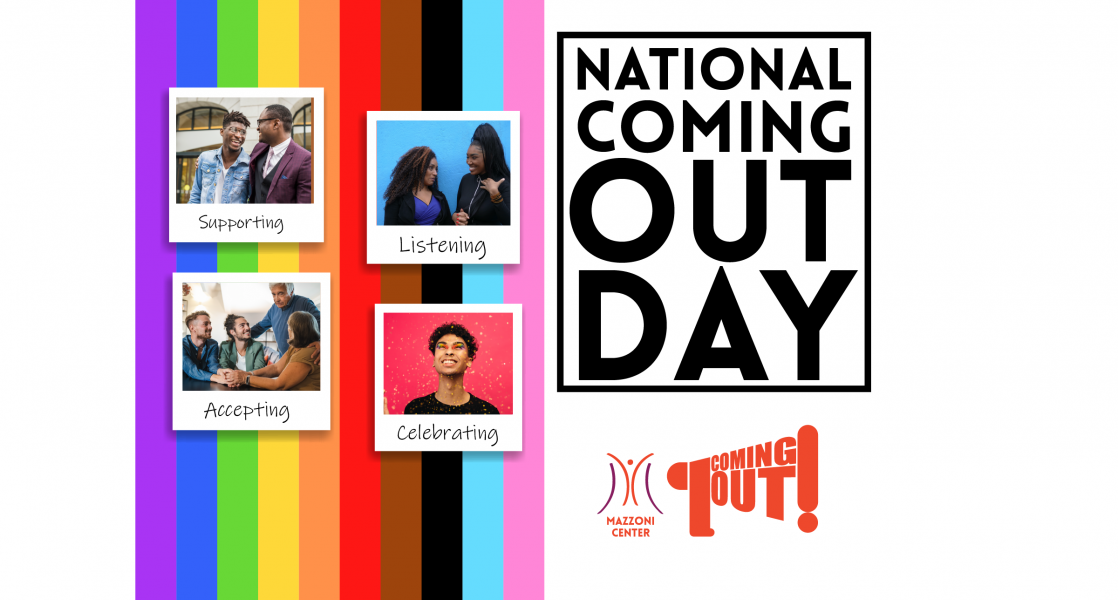 This was originally sent out to our newsletter list first. Not on the list? Sign up here.
Today, as we celebrate National Coming Out Day, we are proud to serve so many people during their coming out. We understand the unique challenges our community faces when taking those first steps out of the closet.
Whether it is coming out as gay, lesbian, bisexual, transgender, or non-binary, Mazzoni Center can provide appropriate care tailored to a person's specific needs.
"I was really struggling with depression about four years ago, and I could not figure out how to deal with my gender identity. Mazzoni Center helped give me the courage to come out publicly as a trans man and to begin the process of starting hormone therapy. My therapist never once mixed up my name or pronouns, which maps on to preserving dignity and the quality of my life. For a long time, she was the only one who was using my preferred name and pronouns, which really helped get me to where I wanted to be on a larger scale with my friends and family." – S.G.

"Mazzoni Center provided strong support for me when I was coming out and has been a steady healthcare provider for me over the years." – Anonymous
"Mazzoni Center was a safe place to get medical care as a gay man during times when it was very difficult to be out. Having a non-judgmental doctor I could be transparent with was crucial to my health and still is. The behavioral health department has provided therapists that helped me to do the hard work and elevated my joy for life and love for myself." – B.B.
"Mazzoni Center has made my life worth living. I am finally able to live my life authentically." – A. A.
Coming out can be a stressful time, and we are here to ensure our community has the support it needs throughout their journey to living life out.
Please honor National Coming Out Day with a donation to Mazzoni Center's mission of providing quality LGBTQ+-focused health and wellness services. People come out every day, and we want to make sure they all have a chance to thrive.