Mazzoni Center Partners in Study on Suicide Prevention and Mental Health Accessibility for LGBTQ Youth
Mazzoni Center Partners in Study on Suicide Prevention and Mental Health Accessibility for LGBTQ Youth
February 1, 2023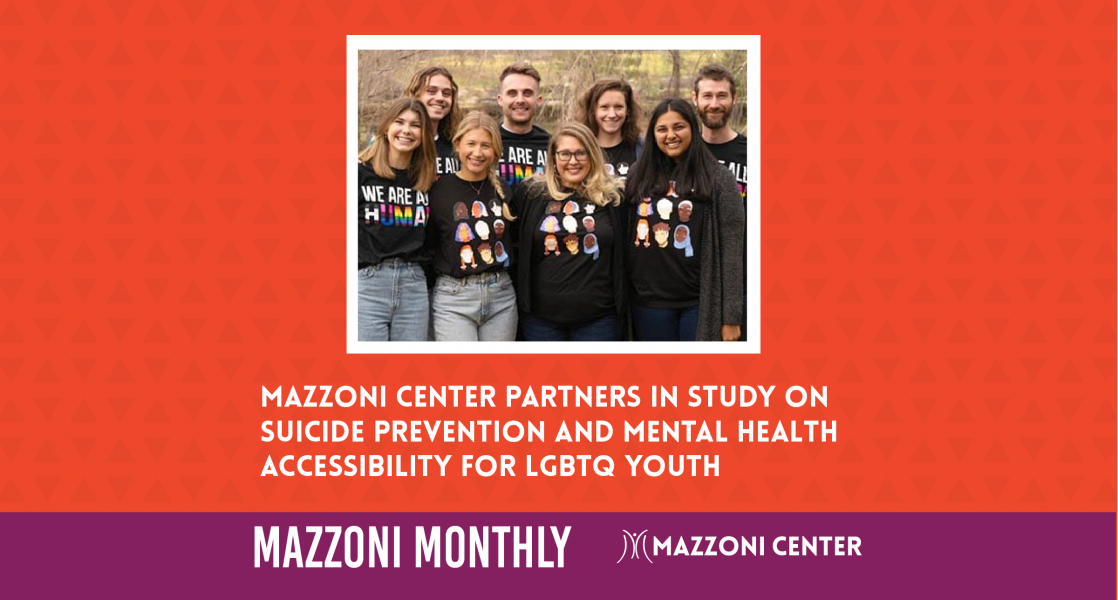 Adapted from an article by Crystal Graham first published in the August Free Press. Photo by Savannah Webb for Virginia Tech
Jody Russon wants to help one of the nation's most vulnerable communities feel accepted. A family therapist and assistant professor of human development and family science at Virginia Tech, Jody received a $750,000 grant from the National of Mental Health to begin a project that will fuel referral resources for LGBTQ+ centers within urban and rural communities. Mazzoni Center will be a key partner in her project.
"It was incredible," she said. "It felt like we had been given an opportunity to make change happen. Momentum around the project is building in this start-up phase, and we're all excited about how we can transform the behavioral health landscape for our LGBTQ+ kids."
The grant will enable Russon to embark on a three-year project studying suicide prevention and mental health accessibility for LGBTQ+ youth. Ultimately, Russon hopes the team's work will create a system where LGBTQ+ centers feel comfortable referring youth with suicidal thoughts to behavioral health centers in their immediate communities.
Her eight-person team plans on adapting Behavioral Health-Works, a program that is currently used in schools, hospitals, and a variety of other settings, for LGBTQ+ centers. It is a proven, web-based youth suicide prevention program, and offers technology, screening, training, policy support, and a learning collaborative to create a sustainable system for identification, triage, referral, and follow-up.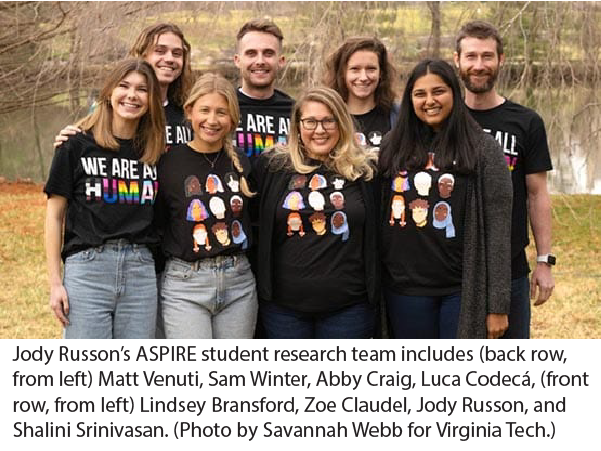 Russon and her team have partnered with two LGBTQ+ organizations, Mazzoni Center in Philadelphia and Diversity Camp, Inc., in Roanoke, along with their respective behavioral health partnering sites, Thomas Jefferson University and Carilion Clinic Child and Adolescent Psychiatry Services.
According to Mazzoni Center's Director of Behavioral Health, "Our collaboration on the BH Works project with Virginia Tech is exciting because it allows us to understand on a deeper level some of the unique needs and potential barriers experienced by LGBTQ+ youth in accessing life-sustaining behavioral health care. Through this research, we aim to create change within a system that does not currently prioritize LGBTQ+ youth."
In the United States, suicide is the second leading cause of death among 15-to-24-year-olds. Sexual and gender minority adolescents experience significantly higher rates of suicidal thoughts and attempts than their heterosexual and cisgender peers.
"LGBTQ+ center providers and administrators were telling me that although they are deeply passionate and committed, they are also overwhelmed by the level of need from youth in their communities," Russon said. "The providers would tell me 'The youth trust us. They rely on us. And we don't always have the means to provide for them all, and we struggle to refer them out because what if they go to a non-affirming place?'"
Virginia Tech students from Russon's research team called the Alliance for the Study of Suicide Prevention and Intervention through Relationship Enrichment, are helping with the project. The team focuses on adapting and implementing suicide intervention and prevention strategies for youth populations.
The first year of Russon's program will focus on collecting quantitative and qualitative data about current suicide prevention practices, working with her team to adapt the Behavioral Health-Works
program to be more affirming and training providers in suicide risk management, family engagement, and affirmative care. The team plans to implement the program in year two of the project, and then, in year three, examine its outcomes.
"It involves training, and it involves screening," Russon said. "It involves referral and follow-up. But at the heart of the project is building relationships between providers and their organizations so that there's a better network and a solid ground for making connections."
Want to get stories like these from the Mazzoni Monthly and our other newsletter content delivered to your mailbox? Sign up here
Related Content