Mazzoni Center is Sole Center in Northeast U.S. to Receive NCOA Vaccine Grant for Older Adults
Mazzoni Center is Sole Center in Northeast U.S. to Receive NCOA Vaccine Grant for Older Adults
February 1, 2023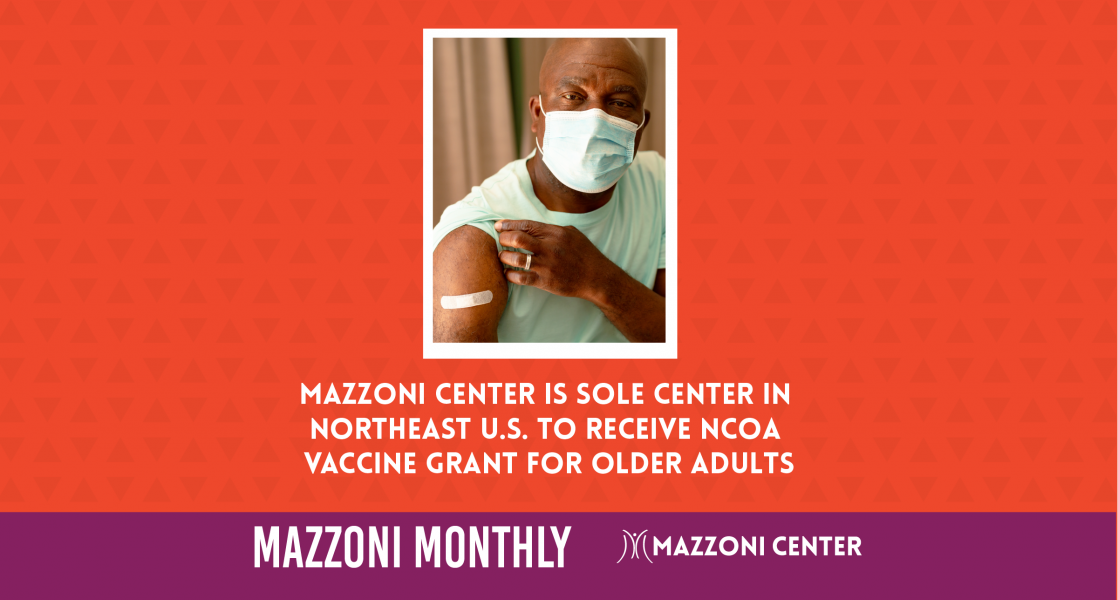 The National Council on Aging (NCOA), the national voice for every person's right to age well, has announced the first round of grantees under its Vaccine Uptake Initiative, funded by the U.S. Administration for Community Living.
The nine grantees will receive funding to conduct tailored outreach, host vaccine clinics, and offer services like transportation and appointment scheduling to enable older adults and people with disabilities to get the latest COVID-19 booster and flu vaccine. Combined, the grantees are expected to reach up to 30,000 individuals.
Of the nine grantees, which include organizations across the United States, Mazzoni Center is the only grant recipient in the entire northeast U.S.
"Mazzoni Center and the CHI team thank NCOA for the opportunity to receive this funding," says Faith Mole, Mazzoni Center's Community Health Initiatives Director. "As the NCOA believes that every person deserves to age well, we believe access to quality health resources can aid in that. Our team will work hard to engage with and provide Covid 19 and Flu vaccines as well as vaccine education to the elderly community."
Mazzoni Center's initiative will focus on reaching vulnerable LGBTQ seniors. Mazzoni Center's Community Health Initiatives team will work with local organizations serving LGBTQ+ seniors including John C. Anderson Apartments (LGBTQ-focused senior living facility), the William Way Community Center (which has programming specifically for LGBTQ+ seniors), and others to ensure they receive the newest vaccines and immunizations.
Mazzoni Center has a longstanding history of removing barriers to care. Most recently, through a grant from Temple University and HRSA (Health Resources & Services Administration), current Clinical Support staff participated in a previous Covid Vaccine grant opportunity throughout 2021-22 in which they provided outreach, education, and vaccine distribution to at-risk populations.
"These local organizations are trusted messengers in their communities, and we're proud to support their efforts to keep older adults and people with disabilities safe and healthy with the latest life-saving vaccines," said Ramsey Alwin, NCOA president, and CEO. "The grantees serve diverse racial and ethnic populations in both metropolitan and rural areas, helping us ensure that no one is left behind."
Want to get stories like these from the Mazzoni Monthly and our other newsletter content delivered to your mailbox? Sign up here