A message from Mazzoni Center's interim leadership team
A message from Mazzoni Center's interim leadership team
March 26, 2020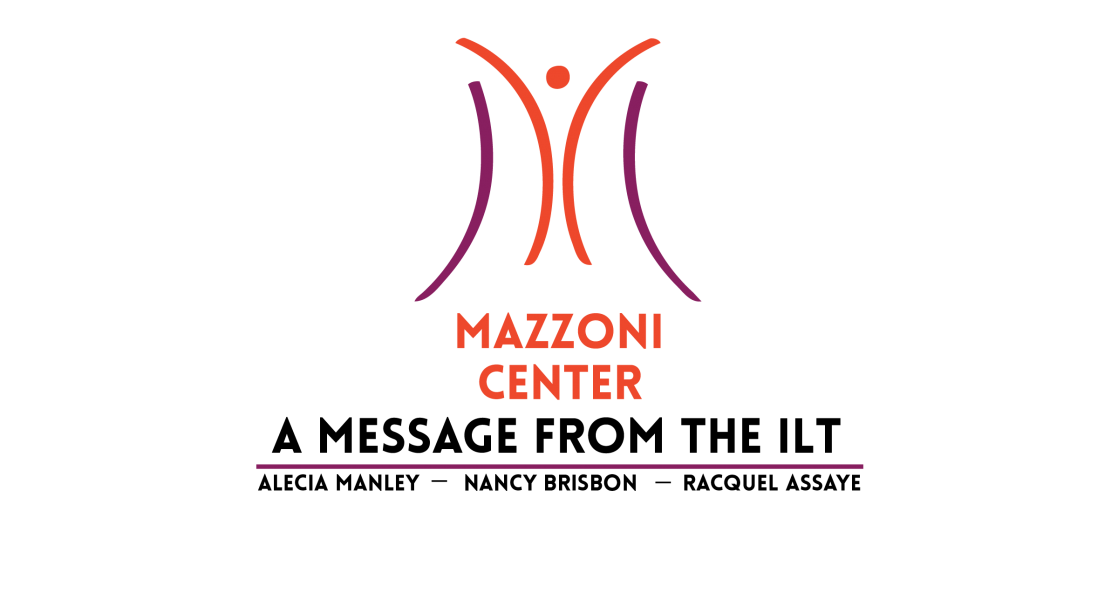 Two weeks ago, Mazzoni Center's leadership team made the decision to transition our physical and mental health care to telehealth, limit the provision of some community-based services and close both our facilities for two weeks. Our priority in doing so was to minimize possible staff and client/patient exposure to the novel coronavirus while providing time to carefully plan for the weeks ahead during this ever-changing public health crisis. Employees continued to receive full pay and benefits during our two weeks of limited service/closure.
As this coronavirus outbreak has intensified, and governmental guidelines changed, the leadership team has continued working to determine how best to safely and feasibly continue to provide services to our diverse community. In planning to continue services in this uncertain time, our focus has been to reactivate our most crucial, life-sustaining services in a manner that is flexible and as safe possible and in accordance with federal, state, and local guidelines. Thus, we have developed a short-term plan to reopen our most critical services.
This plan, which will be implemented for two weeks starting on March 30th, allows Mazzoni Center to continue delivering critical services to our patients and clients. We will continue connecting with our patients by portal messages, telephone visits and carefully screened in-person care, as we did in the first two weeks of our coronavirus response. Additionally, in the next two weeks, telemedicine care will be available for patients with cell phone and/or computer access. We will continue to ask that patients not walk into the facility to prevent potential exposure to other patients and staff. Behavioral Health is already 100% fully operational through telemedicine. And yesterday we launched our first virtual Intensive Outpatient Program (IOP) session. Our Medical Case Management, Housing Subsidy and Food Bank programs will return at full time status to help some of the most vulnerable clients in our communities continue to meet their basic needs.
Further, our prevention and community outreach staff will work on launching an online version of some of our social services programming (e.g. OUR Way, the Trip Project) to ensure staff and community members can engage effectively and safely.
In light of this plan, and after careful deliberation, Mazzoni Center's leadership team has made the difficult decision to fully or partially furlough approximately 40 percent of staff. Mazzoni Center is not laying off any staff and the furlough option ensures that staff will see no disruption to their health benefits and will be able to access unemployment and additional government provided resources. Our plan is to recall staff immediately once services are running at greater capacity.
In addition, staff not working full time during this period will be able to use accrued paid time off in accordance with agency, local, and federal guidelines, including using vacation and personal time to cover reductions in hours, as applicable. We have increased our IT capacity to allow for employees to work remotely where possible (i.e. where this does not involve HIPAA compliance and PHI concerns). Lastly, members of our leadership team have volunteered to take pay reductions during the coronavirus outbreak to redirect funds to other areas of Mazzoni Center services and operations.
These decisions, like all of Mazzoni Center's decisions in response to the coronavirus outbreak, have been underpinned by three goals: to continue to act in ways that protect the health and safety of staff, patients and clients; continuing to provide needed services to our patients and clients whether they engage with us in our health center, behavioral health, case management or community outreach, or some other way; and to make sound fiscal decisions to ensure the short and long-term sustainability of our community-based organization.
Understanding that much about the coronavirus, the measures needed to prevent spread and the best ways to continue to provide needed services are being developed on a daily basis, we will regularly examine our service provision, the nature of our client/patient needs, and the feasibility of our delivery models. We will update our plans as needed.
We remain committed to moving forward thoughtfully, safely, and with as little disruption for staff, patients, and clients as is feasible in this challenging and uncertain time.
Thank you for your continued support.
Alecia Manley (They/Them)
Chief Operating Officer; Interim Leadership Team

Nancy Brisbon, MD (She/Her)
Chief Medical Officer; Interim Leadership Team

Racquel Assaye (She/Her)
Chief Financial Officer; Interim Leadership Team
Tags
Topics
Related Content