Reflections on my First Week as Mazzoni Center's President and Executive Officer
Reflections on my First Week as Mazzoni Center's President and Executive Officer
January 17, 2022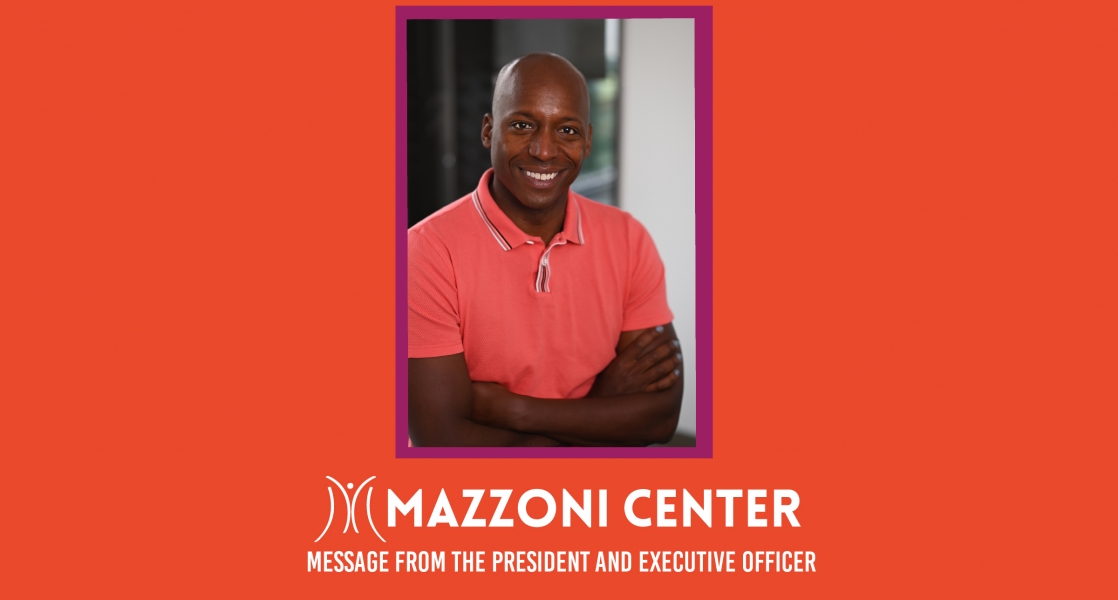 As I begin to close out my first official week at Mazzoni Center, I want to first take a moment to honor the life of Jimmy Calnan, Mazzoni Center's longest serving volunteer, as well as honor the lives of our many friends and family we've lost. The team here at Mazzoni Center shared a tribute to Jimmy here.
Conversations with our community
I've had the opportunity to meet a number of Philly's amazing community members: from spending time at Morris Home hearing about the perseverance of our trans and gender non-conforming family who are finding support while in recovery, to working with community allies to support Share Food Program's efforts to deliver meals to over 1,000,000 people each month, to meeting with leaders of our partner non-profit organizations to build collaborative relationships, the best part of the work has been connecting with so many of our community's amazing volunteers, activists, and leaders.
And, I want to hear from you too! The team here at Mazzoni Center will be working to develop a series of community listening sessions where I hope to get input on how Mazzoni Center can best serve you, meet your health and wellness needs, and provide support to you and your loved ones, particularly in this challenging and uncertain time due to COVID. Mazzoni Center was built out of community need and will continue to work to meet community need as we chart the path ahead.
Acknowledging our past
I also want to clearly acknowledge that before we can chart our path toward the future, Mazzoni Center must work to reconcile and heal our past. Some of Mazzoni Center's past leadership have caused harm, and I intend to work with our staff and community to take accountability for that past, to provide greater transparency, and more importantly, to work with the community to ensure that past harms are never repeated. Our community deserves a health and wellness center that holds safety in the highest regard, and my promise to you is that we will do better.

As I embark on this work, I also want to honor that many of the hurtful experiences in Mazzoni Center's history may still be triggering to some, so my goal is to embark on this effort in a way that provides healing to those who have been hurt, while also providing space for an honest, public dialog. My goal is to engage in this conversation with intention and care over the months ahead, so I thank you for your patience as we develop a plan to engage in this conversation thoughtfully and thoroughly.
Charting our future
As I've been out listening to the community, the one thing I have continuously heard is that the consistent thing about Mazzoni Center is that the care is excellent. Mazzoni Center has some of the best providers—doctors, therapists, social workers, testers, educators in the area who specialize in LGBTQ+ wellness and HIV prevention and care. The organization has partnered with agencies, businesses and churches across the city to provide COVID vaccinations; delivered behavioral health screenings at community events; hosted PrEP clinics; provided LGBTQ+ competency training to local companies, and distributed condoms, Narcan and fentanyl test strips at community events.
You, the community, are what make our city vibrant, and I look forward to working with you to help ensure our city is healthy—physically, emotionally, mentally, and spiritually.
Thank you!
Sultan Shakir
President and Executive Officer
Mazzoni Center
[email protected]