Statement From President & Executive Officer Regarding Mazzoni Center Patient, Client, and Staff Safety
Statement From President & Executive Officer Regarding Mazzoni Center Patient, Client, and Staff Safety
April 1, 2022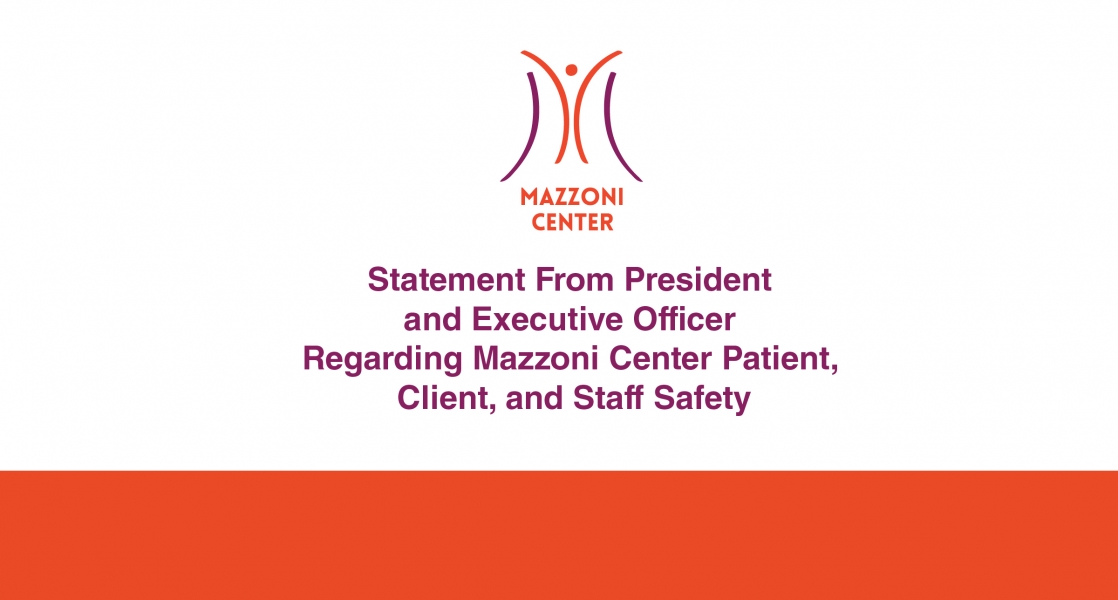 Dear Mazzoni Center Community,
In my recent listening sessions as President and Executive Officer, many of you expressed feelings that the 2017 allegations against Mazzoni Center's former Medical Director feel unresolved. I would like to take this opportunity to address that past more directly and talk about the work Mazzoni Center has done and will continue to do to ensure that our patients and clients receive the best care in a safe, healthy, and secure environment when they come through our doors.
This commitment of safety also extends to our staff. I would also like to affirm that our first priority among all of our responsibilities is to preserve the safety of the patients and clients who entrust us with their care, and those who provide care.
First, I want to acknowledge the significant allegations that were made in 2017 of inappropriate patient/provider boundaries and prescribing practices by Mazzoni Center's former Medical Director. Mazzoni Center hired two outside firms to conduct independent investigations and to make recommendations to continue to ensure the safety and well-being of our patients and staff. The organization also received information requests and a subpoena from the Pennsylvania Medical Board and cooperated fully with their independent investigation.
The recommendations made as a result of our outside investigations were taken to heart by Mazzoni Center, and we went to work implementing them over the past five years, enhancing existing policies and protocols and developing new ones. In doing so, a central purpose has been to protect our patients and clients from sexual assault, harassment, abuse, discrimination, or other wrongs when they receive care with us.
We have also established and grown structures that encourage staff and patients to report wrongdoing and to make sure appropriate action is taken if and when it is reported. This is critical in any organization, but especially one that has grappled with allegations of significant misconduct in its past. I am proud to share with you the many specific steps we have taken over the last several years to ensure the highest degree of care and safety. Since 2017, Mazzoni Center has:
Established an anonymous hotline for staff to report fraud, patient care issues, harassment, discrimination, abuse, or any other inappropriate conduct, behavior, or wrongdoing through multiple reporting channels.
Created an Executive Leadership team, including legal counsel, to ensure we are upholding the highest standards for compliance and ethics, and that any and all issues that are raised up are examined, investigated, and remediated as appropriate.
Implemented workplace policies to protect whistleblowers from retaliation and encourage and support all good faith reports of wrongdoing.
Established clear workplace policies requiring that appropriate boundaries be maintained between our employees and their patients and clients.
Established a Patient Family Advisory Council and expanded Community Advisory Boards to provide feedback on care and community health and wellness needs.
Created a Compliance Director role within the organization to ensure that we adhere to best practices in our provision of health and wellness services.
Updated prescribing protocols for our medical providers that model national best practice while honoring their skills in providing excellent patient care and safeguards to ensure we are following those protocols.
Strengthened our Human Resources Department to address employee relations issues, investigate and resolve internal complaints, and mediate other workplace issues for our staff.
Formalized requirements for LGBTQIA+ competency training, antidiscrimination training, and antiharassment training for our staff annually and at onboarding.
Standardized workplace expectations and accountabilities in our union contract with feedback from and negotiations with front line staff.
We hope with these enhanced safeguards in place and our continued commitment to care and safety for clients, patients, and our staff, everyone feels safe coming to us for care, and we hope to continue to serve you as we always have – with grace, compassion, empathy, and dedication.
We have also worked and will continue to work with our staff, staff union, board, and the communities we serve to strengthen the organization and make sure decisions are never made in a vacuum. We will keep working on improving our structures and will always keep the dialogue open with you as we move forward.
As the largest and oldest LGBTQIA+ health and wellness organization in the region, we hope to serve as a model to other organizations, and to continue doing our best by you. We look forward to more listening sessions in the coming weeks and hearing from all of you as we look to our shared future together.
For questions regarding Mazzoni Center's safeguards for patient, clients, and staff, please feel free to reach out using our contact us form:
https://www.mazzonicenter.org/about-us/contact-us then select Topic: Other
If you would like to speak with me, Sultan Shakir, President and Executive Officer, please feel free to call or text 267-389-2779.
In Solidarity,
Sultan Shakir, President & Executive Officer