Coping with the COVID-19 & MPox Outbreaks During the Holidays | Holiday Wellness Guide
Coping with the COVID-19 & MPox Outbreaks During the Holidays | Holiday Wellness Guide
December 9, 2022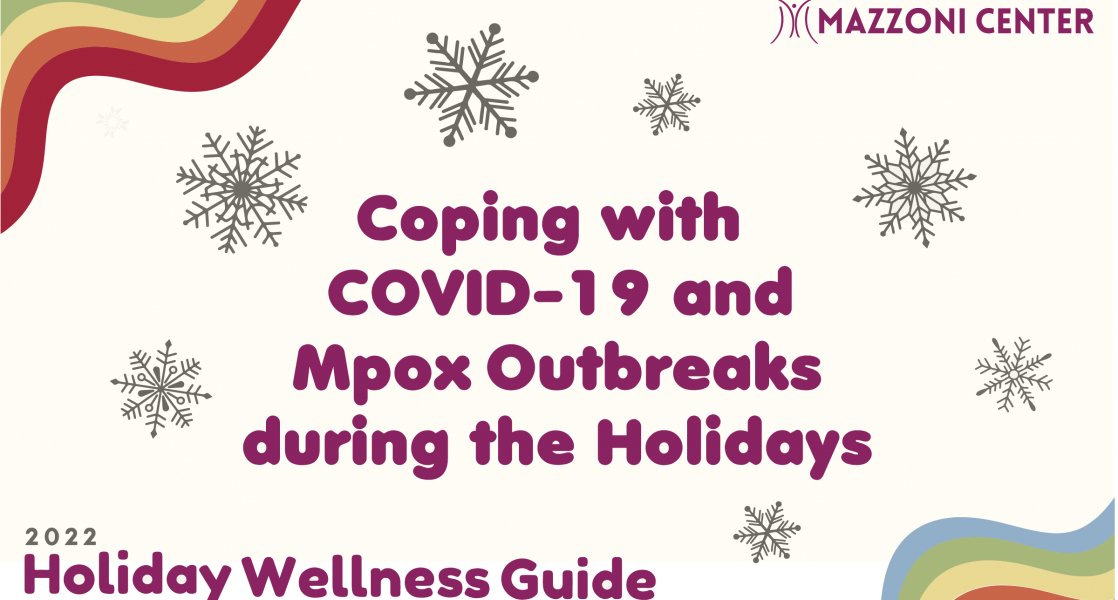 The holidays can be a particularly stressful time of year, however, experiencing the holiday season post-pandemic and during the monkeypox outbreaks brings even more potential challenges. Our lives have substantially changed post COVID-19 and give the newness of it all, it is important to finding ways to cope with challenging emotions and situations. These coping skills can help provide us with emotional stability and reduce suffering in our everyday lives but especially during the holiday season. In this section, we provide an overview of some of the strategies that are available and can provide tools to help you cope with challenging emotions and situations. Many resources (listed below) discuss various ways in which we can cope with anxiety, post-COVID.
Here are some tips that may help you with coping through this difficult time:
Acknowledge your fears and worries and try to understand why you have them.
Try to pinpoint what you are worried will happen; revisit those initial worries and check the facts — did that feared outcome happen and if it did, was it as bad as expected?
If you continue to experience anxiety and find yourself experiencing difficulty completing tasks, we recommend speaking with a mental health professional.
Try to utilize deep breathing and muscle relaxation exercises.
Build a very thorough sleeping and eating routine. Try to sleep between 8-9 hours a day, and if possible, eating at least 2 meals a day with snacks in between.
Prioritize your self-care days. Think about activities that can bring you joy, relaxation, or de-stress. Many people exercise, draw, journal, dance etc.
Seek support from your community and loved ones.
Try to shift your focus to the present – make plans but try not to dwell on "what ifs" or what was "supposed" to happen.
The resources below offer further information about coping with COVID-related anxiety:
How to Celebrate the Holidays Safely
We recognize that this holiday season may be the first holiday that will look similar to the ones pre-pandemic. However, while there are still some worries around COVID-19 and the MonkeyPox, it may likely add a new layer of stress to whatever holidays you choose to celebrate. For many in the LGBTQ+ community, the holiday season can be a time to spend with chosen family and those who are supportive, but large gatherings and events could put your health at risk. However, there are many ways to safely celebrate the holiday season with your chosen family or family of origin. Connections with loved ones is very important and can offer an outlet to reduce stress and recharge. Below are two resources that outline safe CDC-guideline compliant holiday practices. They include safety tips, important things to consider when planning holiday celebrations, and various scenarios related to COVID-19, the Flu, and Monkeypox.
Don't Skip Out on Both Your COVID Booster Shot and Your Flu Shot...
A flu shot will not protect you from COVID-19. Vice versa, a COVID-19 vaccine will not protect you from the flu. These are two entirely separate vaccines that are designed to protect against two different viruses. If you haven't gotten your COVID-19 vaccine yet, The CDC announced that you can get the flu vaccine and COVID-19 at the same time. The same rule goes for anyone needing a booster shot for COVID-19. You can get both. The current booster shot for COVID is now updated and will protect you from the previous variants. Click here to find COVID-19 and Flu vaccines at a pharmacy near you.
More resources you can utilize for your safety:
To learn more, download the entire guide here.
Related Content