Mission Moments in the Age Of Social Distancing: Evolutions
Mission Moments in the Age Of Social Distancing: Evolutions
June 13, 2020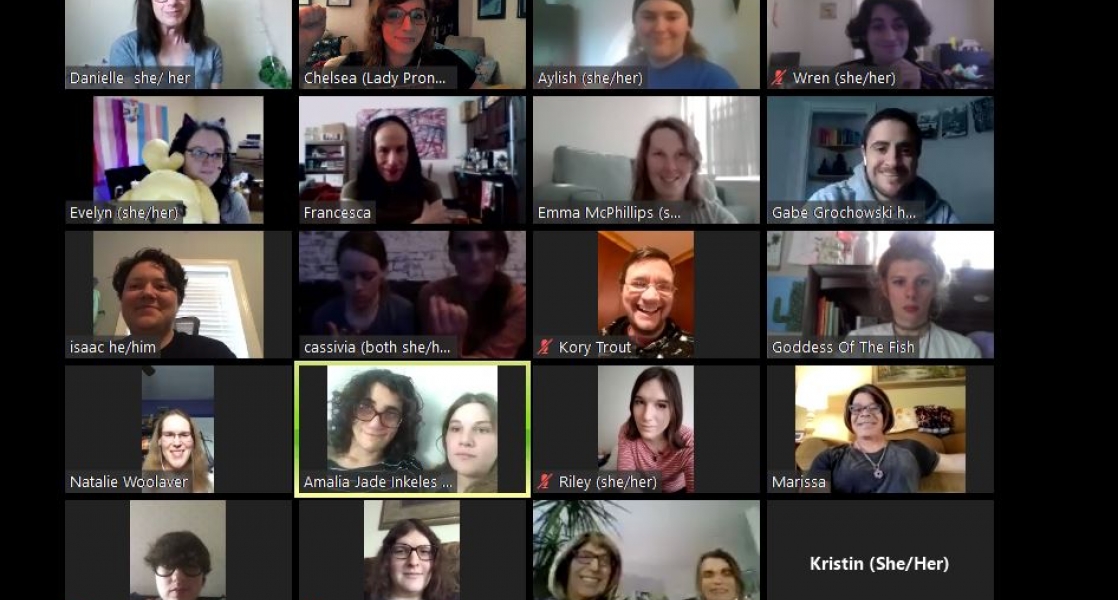 You are not in this alone; we are all in this together. For the past several weeks Mazzoni Center has been saying this as we cope with the challenges of the COVID-19 pandemic. Nothing demonstrates how together we gone through this together better than the Evolutions support group. Just like most of our groups, Evolutions had to suspend in-person meetings in late March due to the stay-at-home order in Pennsylvania. These new barriers didn't deter group members who immediately started to plan on how to stand together, while staying apart.
They started meeting as a group again using the virtual meeting platform Zoom. "This amazing group of individuals took it upon themselves to get a virtual group up and running before I had any idea what Mazzoni Center's plan was," said Gabriel Grochowski, MS, LPC, NCC (He/Him), a Therapist at Mazzoni Center who had been facilitating the group for months, "Each week we have at least 24 people in attendance! Over the course of the past week I have had at least a dozen more people reach out expressing interest in joining so I will be interested to see what this week's numbers are!"
Not only do group members support each other emotionally, they also chip in when someone in the group needs help. As Gabriel tells us, "In addition to keeping the group alive, they were able to come together and raise over $400 for a fellow group member who lost their job and was worried about making ends meet." This group is not just a group, but a family that is there for each other even in the most challenging times.
Hearing how this group overcame the pandemic shows the strength and resilience of our community and that nothing can stop us from being better. As Gabriel states, "I am amazed by the resiliency, compassion, and support that this group shows for one another and I am proud to be a part of it."
Here is some of the things members say about Evolutions:
"It has been amazing to my health and well-being." - Aylish(She/Her)
"Evolutions has definitely helped me feel less alone." - Charlie(He/They)
"Evolutions is home and very helpful." - Dana + Jenna
"For me, the Virtual group has been an opportunity to really do this in my own time and feel more free about it. I've been to group a couple times in person, but it's always a hassle to get there from work and all. So, this is easier in that regard and I don't feel as awkward being in a closed room full of people I don't really know." - Evelyn (She/Her)
"I would absolutely attend Evolutions virtually. Even living in the Philly suburbs and not having a driver's license, it was still sometimes difficult to get to meeting. I would love to be able to continue to attend evolutions after I move to NY." - Kory Trout
"I feel like the group is great to have to look forward to each week and glad it's been working out so well virtually. It definitely helps me feel a sense of community." - Riley (She/Her)
"It's been so important for me to have a continued sense of community and keep seeing everybody, especially with my mental health not being so great the last couple months. It's also less intimidating in this format than in the big room with everybody in a circle, I feel like I can talk a bit more easily." - Wren (She/Her)
"The virtual group is an excellent idea which helps me interact with others like me in solving issues in our lifestyle—especially in my location. There is no groups in my area." - Danielle (She/Her)